World weighs in on UN Palestine vote
(Read article summary)
World headlines showed a mix of emotions – but a lot of common ground on how much impact this may have on prospects for peace.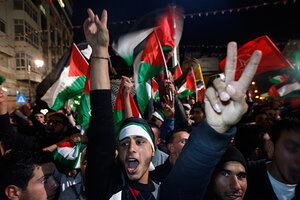 Majdi Mohammed/AP
• A daily summary of global reports on security issues.
United Nations member countries voted overwhelmingly to change the Palestinian status from an observer to a non-member observer state yesterday, but how this will play out in terms of Israeli-Palestinian relations, and prospects for peace, is still an open question.
Held on the 65th anniversary of the "birth" of Israel – when the UN voted to partition the British mandate of Palestine into one Jewish state and one Arab state – there is no question that yesterday's vote was symbolic for Palestinians and their supporters, according to The New York Times. The vote passed 138 to 9, with 41 states abstaining.
"The General Assembly is being asked today to issue the birth certificate of Palestine," Palestinian President Mahmoud Abbas said in his speech before the vote.
The new UN status doesn't change borders, or give Palestinians control of "their borders, airspace or trade"; they still have "separate and competing governments in Gaza and the West Bank, and they have no unified army or police," according to CBS News.
---