Syria's VP calls for peaceful resolution to crisis – possibly without Assad
(Read article summary)
Mr. Sharaa says that both the regime and rebels will need to work together to resolve the conflict in Syria, since neither has exclusive rights to dictate the country's future.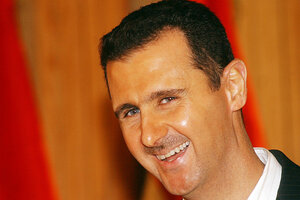 Bassem Tellawi/AP/File
• A daily summary of global reports on security issues.
In an interview with a pro-Assad Lebanese newspaper, Syria's vice president called for a peaceful political resolution to the ongoing conflict in his country, and suggested that President Bashar al-Assad may not play a role in Syria's future – marking the highest-level acknowledgment yet from the Syrian government that a victory for the Assad regime looks increasingly unlikely.
Farouk al-Sharaa, current vice president of Syria and a long-serving member of the Assad family's regime, said in an interview with the Beirut-based Al Akhbar newspaper that "With every passing day, the solution [to the Syrian conflict] gets further away, militarily, and politically." Noticeably omitting the political survival of President Assad, Mr. Sharaa says that "We are not in a battle for the survival of an individual or a regime."
In an indirect, verbose fashion, Sharaa seems to demarcate a divided mind-set within the Syrian government, with Assad seeking a decisive military resolution to the conflict, while others, like Sharaa, push for a political solution.
Sharaa tells Al-Akhbar that "If anyone has the chance to meet Mister President, he would hear from him that this is a long struggle, a big conspiracy with many actors (terrorists, rabble, smugglers). He does not hide his desire for a military solution that achieves a decisive victory, and only then would the political dialogue be actually possible."
---