US drone strike in Pakistan kills influential Taliban commander
(Read article summary)
US strikes in northwest Pakistan reportedly killed Maulvi Nazir, a Pakistani Taliban commander known for fighting US forces in Afghanistan. Some in Pakistan's military viewed him as a 'good' Taliban.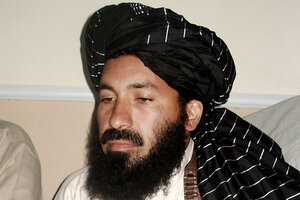 Ishtiaq Mahsud/AP
Key Pakistani Taliban commander Maulvi Nazir – considered a "good" Taliban by some among the Pakistani military – died in a US drone strike that left at least six dead on Thursday, according to local reports.
According to Pakistan's Dawn newspaper, Taliban and local government officials confirm that Mr. Nazir and at least two of his deputies were killed when a US drone hit their vehicle in South Waziristan, a Pakistani tribal region along the Afghan border. The commander's truck had reportedly broken down at the time.
The Guardian notes that neither the Pakistani government nor the Taliban has made an official statement on the reports, and that details remain murky.
Because journalists are usually prevented by militants from visiting places hit by drones, the exact details of what happened and who was killed in such attacks are often extremely hard to verify.
---