Emboldened Pakistani militants seize, then abandon, fort on bordernear Afghanistan
(Read article summary)
The attack is a setback for the Army and is raising concerns ahead of next month's elections.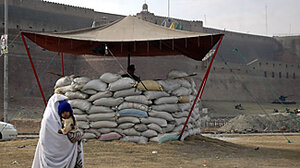 Mohammad Zubair/AP
Hundreds of armed militants stormed a border fort overnight Wednesday in Pakistan's tribal belt, killing at least seven border guards. The militants then abandoned the colonial-era fort on the border in South Waziristan, a lawless zone that US officials say is a launching pad for Taliban and Al Qaeda attacks on Western troops in neighboring Afghanistan.
Islamic militants used explosives to breach the fort where about 40 guards were stationed, according to the Pakistan Army. Most of the guards fled, and others were reported missing after the firefight. The militants left the fort later the same day, melting back into the rugged mountains of northwest Pakistan.
The attack is a setback for Pakistan's Army the Associated Press reports. Fifteen guards fled to safety at another Army base. Another 20 were listed as missing, but five were later found. The military claimed that 50 militants died in the firefight, a claim denied by a militant spokesman who said two had died in the assault.
---