India-Pakistan tensions renew over Kashmir
(Read article summary)
Indian officials accuse Pakistan of violence in the disputed Himalayan border region. The allegation coincided with bombings in Jaipur.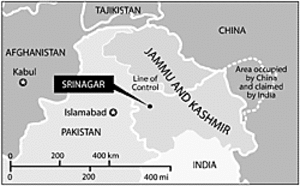 India has accused Pakistan of firing across the militarized frontier that divides the disputed region of Kashmir – the first such allegation since the neighbors and rivals signed a cease-fire agreement in 2003.
Violations across the so-called Line of Control have been rare since that truce was signed as part of peacemaking efforts between the nuclear-armed nations. The LoC was recognized after a 1971 war and it has since become the de facto border separating India's part of Kashmir from Pakistan's part.
But on Sunday, eight people were shot dead when the Indian Army attacked militants they claim were trying to sneak into Kashmir.
And on Tuesday evening, India claimed that the Pakistani Army had fired bullets across the LoC, according to Reuters. Pakistan had vehemently denied the claims.
The incident took place in the Tangdhar region, about 105 miles north of Srinagar, Indian Kashmir's main city.
Since 1989, numerous militant groups have been fighting for Kashmir's separation from India or its merger with Pakistan. Both claim all of Kashmir, India's only Muslim-majority state. Pakistan regards the demands of the Kashmiri people as legitimate but denies abetting the insurgency.
The two Kashmir border-crossing allegations follow a string of bombings in Jaipur, and some officials said terrorists had hoped to undermine India and Pakistan's peace process with those bombings, reports The Christian Science Monitor.
On Wednesday, commanders from both armies held a meeting to discuss the alleged violation, reported NDTV, a leading Indian television new channel. NDTV said India's prime minister, Manmohan Singh, had described the development as "worrisome."
---