U.N. nuclear watchdog faults Iran's lack of cooperation
(Read article summary)
A critical IAEA report could spur a new round of sanctions. Iran maintains its enrichment program is peaceful.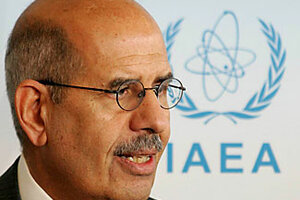 Herwig Prammer/Reuters
A new report by the UN's International Atomic Energy Agency (IAEA) says Iran has failed to come clean on its uranium enrichment program and that it has serious concerns over alleged research into nuclear weapons.
The critical report released to the UN Security Council on Monday is likely to buttress calls by the US and other Western countries for new sanctions on Iran. Iranian officials say they have cooperated with the IAEA and will continue to enrich uranium for future power generation, not for military purposes.
Last week, US Secretary of State Condoleezza Rice said Iranian banks may face further curbs on international trade under measures designed to pressure Iran into stopping its nuclear program. She said Iran's economy was already suffering as a result of successive sanctions and she warned that Iran faced further sanctions if it failed to fall into line with nuclear inspections, reported the Associated Press. The UN Security Council agreed to a third round of economic sanctions on Iran in March.
---