Afghanistan accuses Pakistani intelligence of aiding cross-border terrorism
(Read article summary)
The heightened political tensions between the two allies in the war on terror has prompted US presidential hopefuls to focus on improving Afghanistan strategy.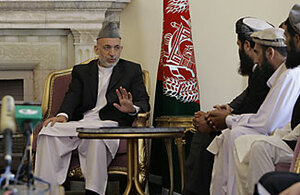 Musadeq Sadeq/AP
Afghanistan's relationship with Pakistan is becoming increasingly strained, with the country threatening Tuesday to boycott a series of upcoming meetings about economic cooperation and coordinated assistance across the border and the cabinet issuing a statement that faulted Pakistan for being the "biggest exporter of terrorism and extremism to the world."
The heightened political stress, in a region where US bases have come under attack and militant activity has increased steadily since May, prompted presidential candidates Sens. Barack Obama and John McCain to address their plans for the war in Afghanistan during separate talks on foreign policy.
The boycott warning follows accusations by Afghan President Hamid Karzai that the Pakistani intelligence agency, Inter Services Intelligence (ISI), has been masterminding terrorist attacks in Afghanistan, reports CBS News.
The cabinet implicated Pakistan's spy agency in a string of recent attacks, including the Kandahar jailbreak, the beheading of Afghans in the Bajaur and Waziristan provinces of Pakistan, a recent suicide blast in Uruzghan province and the deadly bombing at the Indian embassy in Kabul.
Karzai's ministers warned that unless Pakistan's leaders verifiably [rein in] the spy agency, upcoming talks scheduled between the two countries on assistance along the border region and economic cooperation will be postponed.
---