Hamas calls for 'day of wrath' after senior official killed by Israel
(Read article summary)
The group says suicide attacks may begin again in response to Thursday's Israeli airstrike on the home of Hamas leader Nizar Rayan.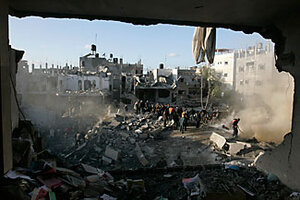 Hatem Moussa/AP
Hamas threatened reprisals against Israel, including the possibility of new suicide attacks, after an Israeli airstrike killed one of the Palestinian group's top officials Thursday. The ongoing fighting has also sparked concern in the UN about a humanitarian crisis in Gaza.
Agence France-Presse reports that Hamas called for a "day of wrath" in response to the death of Nizar Rayan, a party hardliner and military leader. Several of Mr. Rayan's wives and children were also killed in Thursday's attack.
Rayan is the most senior Islamist figure killed by Israel since Abdel Aziz al-Rantissi in 2004 and Hamas again warned that it could resume suicide operations against Israel for the first time since January 2005 to avenge his death.
"After the last crime, all options are open to counter this aggression, including martyr operations against Zionist targets everywhere," Hamas official Ismail Radwan vowed after the attack.
---