First Khmer Rouge trial begins in Cambodia
(Read article summary)
"Duch," the former commander of a prison where thousands were killed, is charged with crimes against humanity.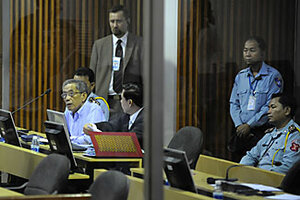 Adrees Latif/AP
The long-anticipated trial of former Khmer Rouge leader Kaing Guek Eav began in a Phnom Penh court on Tuesday. The trial, which is backed by the United Nations, is taking place 30 years after the fall of the Khmer Rouge regime, 13 years after the tribunal was initiated, and almost three years after the court was inaugurated. Still, observers fear that Cambodians will not get the satisfaction that justice has been delivered, as court proceedings have been plagued by corruption allegations and fears of political interference.
According to the London-based daily The Guardian, Mr. Eav, better known as Duch, is charged with crimes against humanity by the Extraordinary Chambers of the Courts of Cambodia (ECCC).
Many Cambodians complain that the "Killing Fields" tribunal is long overdue. According to Reuters, a draft agreement between the Cambodian government and the UN about the format for the trial was first floated in March 2003.
The English-language Cambodian daily The Phnom Penh Post reports that there is still a chance Duch's defense lawyers will present a compelling argument.
---