Clinton: North Korea succession a concern
(Read article summary)
Uncertainty over who will replace Kim Jong Il could complicate negotiations over the country's nuclear program, Clinton said.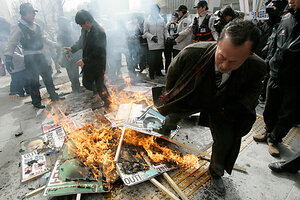 Ahn Young-joon/AP
Secretary of State Hillary Rodham Clinton warned Thursday that the uncertainty regarding who will succeed North Korean leader Kim Jong Il could have a negative impact on negotiations over North Korea's nuclear arsenal.
The New York Times reports that Secretary Clinton's comments, made as she continued her tour of Asia, broke an "informal taboo" in the region about addressing Pyongyang's future leadership.
"If there is a succession, even if it's a peaceful succession," she said, "that creates more uncertainty, and it may also encourage behaviors that are even more provocative, as a way to consolidate power within the society."
The question is whether Mrs. Clinton made a beginner's error that could upset other players in the negotiations, like China. Or whether she showed refreshing candor – the kind of approach that could shake loose what has been a diplomatic quagmire for the last eight years.
The answer was not yet clear in the hours after Mrs. Clinton landed in Seoul to hold meetings with leaders there about North Korea; neither China nor North Korea itself issued any official reaction to her comments. But already some experts are fretting.
"If you're looking for ways to change the dynamic, there are other ways to do it," said Steve Clemons, director of the American strategy program at the New America Foundation. "Asia is all about face. What she's done is to create a huge face problem for the North Korean government."
---