Philippine troops clash with Abu Sayyaf militants
(Read article summary)
The Islamist group is holding three Red Cross workers hostage on a southern island.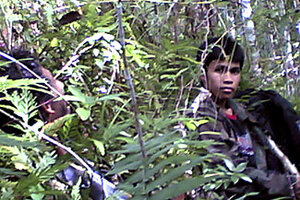 Philippine government official/AP
• A daily summary of global reports on security issues.
At least six people have been killed and 19 wounded on the second day of fighting between Philippine troops and the Islamist group Abu Sayyaf on the southern Philippine island of Sulu (Jolo). Fighting erupted Monday when the leader of Abu Sayyaf – which has taken three International Committee of the Red Cross (ICRC) workers hostage – tried to break through a military encirclement. Philippine government officials and the Red Cross are concerned that the intensifying clashes pose a risk to the hostages' lives.
According to the Philippine Daily Inquirer, an English-language Philippine daily, three of the dead were Philippine soldiers.
[Military spokesman Brig. Gen. Gaudencio Pangilinan] said the wounded soldiers included four who were hurt when troops ... clashed with between 50 to 90 fighters believed to be the main Abu Sayyaf force holding Swiss Andreas Notter, Italian Eugenio Vagni, and Filipino Mary Jean Lacaba in the vicinity of Barangay (village) Buton Mahablo, Parang town around 5:30 a.m….
---