New bid to free captain of pirated US ship
(Read article summary)
The Maersk Alabama's crew, now in Kenya, tells story as negotiations continue over captain held hostage.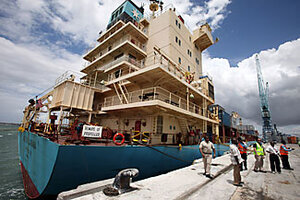 Sayyid Azim/AP
• A daily summary of global reports on security issues.
After arriving safely in Mombasa, Kenya, on Saturday night, the sailors aboard the first American ship to be attacked by pirates in 200 years have begun to tell their story. Negotiations are still under way to secure the release of the US captain being held hostage.
The tale of the men's fight against the pirates – which comes after French commandos raided a hijacked yacht – may mark a dramatic turning point as sailors and government forces begin taking a firm stand against pirates. There is, however, no indication that attacks will decrease in the immediate future.
Although the Maersk Alabama's crew, who are still being questioned by the FBI, CIA, and other US government agencies, has remained largely quiet about their ordeal, they spoke briefly to the press about their battle with the pirates. On Wednesday, the Somali raiders came at the ship from the stern, reports the Times of London, firing shots into the air, and boarding with hooks. The ship's captain, Richard Phillips, surrendered himself to the pirates in an attempt to save his crew.
---