Accused Somali arrives in US to face piracy charges
(Read article summary)
Musi's case is thought to be the first of its kind in the US in more than a century.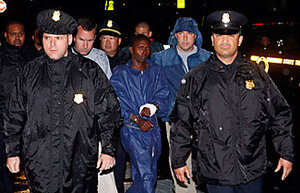 Eric Thayer/Reuters
• A daily summary of global reports on security issues.
A Somali teenager accused of helping to hold an American sea captain hostage after a botched hijacking attempt arrived in New York Tuesday to attend a court hearing. His capture and the prospect of a US trial have not deterred other pirates, who opened fire on two cargo ships in the Gulf of Aden Monday.
Abdiwali Abdiqadir Musi (whose name is also transliterated as Muse) is the only surviving member of the pirate gang that attempted to seize the US container ship Maersk Alabama earlier this month. The Associated Press reports that he is believed to be the first person to face piracy charges in the US for more than a century.
The AP also reports that Musi's real age is unclear. Law enforcement officials say he is at least 18, but his parents say he is only 16. The Christian Science Monitor reported last week that Musi's age could complicate the case, particularly if he is under the age of 18. Proving his age could be near impossible in the disorderly state of Somalia.
According to the Somali news website Mareeg Online, Musi's mother, Adar Abdurahman Hassan, claims that her son is innocent and that he is only 16. Mrs. Hassan has also asked US President Barack Obama to free him.
---