Sri Lanka: Is this the 'endgame' for the conflict with Tamil Tigers?
(Read article summary)
The government says the war is in its last stages, as thousands of civilians remain trapped in the conflict zone.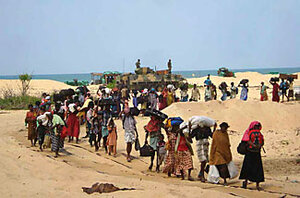 Sri Lankan Army/AP
• A daily summary of global reports on security issues.
After 26 years of fighting, Asia's longest-running conflict in Sri Lanka has reached what one US official called a "decisive point." Sri Lankan forces have cornered the Liberation Tigers of Tamil Eelam (LTTE) in a 6.5-square-mile area on the northern tip of the island nation. The area is the LTTE forces' last major defensive position.
The separatist group had refused calls from the United Nations and several Western governments to release tens of thousands of civilians from their position. LTTE was believed to be holding them as human shields, but three days ago government forces broke through a barrier around the position, allowing more than 80,000 civilians to flee the area, reports Deutsche Presse-Agentur, a German news agency.
---