Pakistanis flee Swat Valley as military strikes Taliban
(Read article summary)
As Army bombs the area, militants are digging in and preparing for ground battle.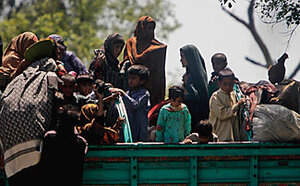 Mohammad Sajjad/AP
• A daily summary of global reports on security issues.
Pakistan's restive Swat Valley is set to become a war zone – again. The Taliban have been busy mining the main streets of the valley's main city, Mingora, taking over government buildings, and seizing police stations. Civilians, meanwhile, can't get out. The Taliban have blocked the roads with trees. Black-turbaned fighters are now poised with their fingers on the trigger, waiting for the Army to come back in.
That could happen any day. So far the Army has preferred to bomb the militants from above, using helicopters and artillery. But ground troops may become necessary as the Taliban dig in. And not just in Swat – after months of inaction, the Pakistani military has begun pounding Taliban enclaves in a 50-mile arc along the Northwest Frontier Province.
This is exactly the sort of violence that the government's peace deal with the Swat Taliban, signed in February, was supposed to avoid. Instead, it only emboldened the Taliban to seize larger swaths of land closer to Islamabad, the capital. As fighting threatens to ignite the region, Pakistan's president, now in Washington, is scrambling to convince the Obama administration that Pakistan can prevail.
---