Burma opposition leader Suu Kyi faces trial after visit by uninvited American
(Read article summary)
The military junta accuses her of violating her house arrest after a Vietnam vet swam across a lake to her home.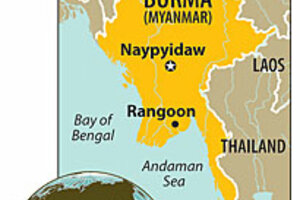 Rich Clabaugh/Staff
• A daily summary of global reports on security issues.
A court in military-ruled Burma (Myanmar) has ordered detained opposition leader Aung San Suu Kyi to stand trial after an American man – reportedly a Vietnam vet – swam across a lake and sneaked into the house where she is held. Ms. Suu Kyi, whose political party won a 1990 election that the military refused to accept, is accused of violating the terms of her six-year house arrest.
Repeated international calls for the release of Suu Kyi have gone unheeded in the past. The latest legal move to punish her may exacerbate tensions with the Obama administration which has in recent months begun a rethink of how to deal with Burma. The US has levied stiff political and economic sanctions on Burma, one of the poorest in Asia, but admits it has failed to change the isolated junta's behavior.
A lawyer said Suu Kyi will stand trial May 18 on the charge of breaking a security law which carries a possible five-year jail term, the Associated Press reports. She was taken Thursday to a court at a notorious jail outside Burma's largest city, Rangoon (Yangon), where the trial will be held. Two female aides who live with her also face the same charges.
---