Sri Lanka's Tamil Tigers admit defeat
(Read article summary)
The militant group's chief of international relations announced Sunday that the war had reached its "bitter end."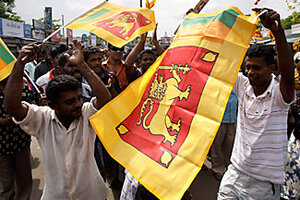 David Gray/Reuters
• A daily summary of global reports on security issues.
Sri Lanka's Tamil Tigers admitted defeat Sunday as the militant group's chief of international relations announced on the Tamilnet website that the "battle has reached its bitter end."
"We remain with one last choice – to remove the last weak excuse of the enemy for killing our people," wrote Selvarasa Pathmanathan in the statement. "We have decided to silence our guns. Our only regrets are for the lives lost and that we could not hold out for longer."
Sri Lankan President Mahinda Rajapakse already declared final victory Saturday in his country's 25-year civil war against the Tamil Tigers, Agence France-Presse reported.
The Tigers, formally known as the Liberation Tigers of Tamil Eelam (LTTE) have been fighting for an independent Tamil state in northern Sri Lanka since 1983. They complain of discrimination and ill treatment at the hands of the island's Buddhist Sinhalese majority.
Mr. Rajapakse was greeted on his return home by supporters waving flags and setting off firecrackers.
According to The Times of London, on Sunday night, the Sri Lankan military killed 70 of the remaining fighters from the Tigers who were holding tens of thousands of civilian hostages in a shrinking patch of jungle territory.
The government claims to have freed all hostages, which AFP reports number between 20,000 and 50,000.
---