FBI arrests three men in terror probe
(Read article summary)
A Colorado resident, his father, and another man have been charged with making false statements during an extensive terror investigation that stretches to Pakistan.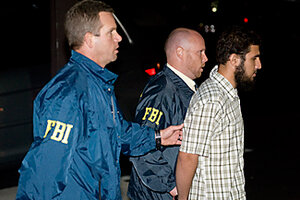 Chris Schneider/ Denver Post/ AP
• A daily summary of global reports on security issues.
Three men have been arrested in Denver and New York City for making false statements to counter-terror officials, as a probe into a possible terror plot widens.
Shuttle-bus driver Najibullah Zazi and his father, Mohammed, were taken into custody in Denver Saturday night, and Ahmad Wais Afzali was arrested in New York City. The three are being eyed for possible terrorist activity, though the details remain murky.
The arrests follow an FBI counter-terrorism raid on two New York City apartments this week and repeated questioning of Mr. Zazi and his associates since then.
Several reports in recent days, all sourced to anonymous officials, say Zazi admitted to contact of an unclear nature with Al Qaeda in Pakistan, and may have been involved in a plot involving an explosives-laden U-Haul truck and targets in and around New York City.
But Zazi has publicly denied any ties to Al Qaeda or involvement in a terror plot. He had broken off talks with authorities early Saturday, before his arrest.
Reuters and several other media reported a statement from an official clarifying that investigators were still in the dark about the details of the alleged plot.
"The arrests carried out tonight are part of an ongoing and fast-paced investigation," David Kris, assistant attorney general for national security, said in a statement. "It is important to note that we have no specific information regarding the timing, location, or target of any planned attack," Kris said.
---