Iran blames the West for Revolutionary Guard bombings
(Read article summary)
A Sunni insurgent group, Jundallah, claimed responsibility for Sunday's attacks that killed six of Iran's elite Revolutionary Guards and more than 20 others.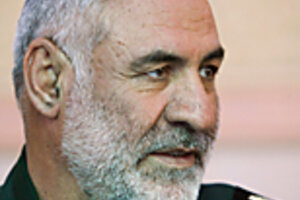 Reuters
• A daily summary of global reports on security issues.
Six commanders of Iran's Revolutionary Guard were killed Sunday in double bombings in a fractious southeastern province where Sunni groups have run a low-level insurgency against Iran's Shiite government.
The government quickly blamed Western powers for the attacks, which killed at least 31 people and wounded at least 28 others. They took place early Sunday as the Revolutionary Guard leaders were meeting with Sunni and Shiite tribal leaders in a "unity" gathering aimed at reconciliation.
The largely Sunni militant group, Jundallah, meaning "Soldiers of God," claimed responsibility for the attack in Sistan-Baluchistan Province, reports The New York Times. One suicide bomber detonated his explosives in a mosque where the reconciliation meeting was gathered, and the second attack targeted a car in the same area carrying Guard members, reports the Times.
Jundallah spans the border into Pakistan, and Iran has accused the US of supporting the militant group as part of a strategy to promote insurgencies by ethnic minorities. Sunday Iran reiterated that charge. The Revolutionary Guard released a statement asserting there was "no doubt that this violent and inhumane act was part of the strategy of foreigners and enemies of the regime and the revolution," reports the Times.
---