North Korean, South Korean navies trade fire on disputed border
(Read article summary)
A South Korean ship fired on a North Korean vessel after it says the North's ship crossed into the South's waters. The exchange ratchets up tensions before US President Obama's Asia visit, scheduled for mid-November.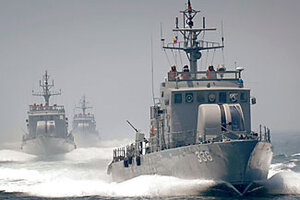 South Korea Navy via Yonhap/AP/File
• A daily summary of global reports on security issues.
North and South Korean naval forces exchanged fire in disputed waters off their west coast Tuesday, the first such incident in seven years. No South Korean casualties were reported, but the North Korean ship was badly damaged during the skirmish. Each navy is blaming the other for the incident, which analysts believe will heighten tensions between the two Koreas in the runup to US President Barack Obama's visit to the region, scheduled for mid-November.
According to South Korean officials, their ship issued warnings before opening fire on a vessel from the North, reports CNN.
North Korea, in turn, contends that its ship did not cross the border, reports the BBC.
The BBC adds that both Seoul and Pyongyang have demanded an apology for the incident. The Koreas' standoff on the issue comes weeks after North Korea's navy accused the South of sending warships across their maritime border and threatened retaliation.
---