Iran nuclear program: US, EU step up sanctions pressure
(Read article summary)
US Defense Secretary Robert Gates, speaking in Iraq, said additional sanctions could be imposed for Iran nuclear program if Iran does not fulfill October agreements.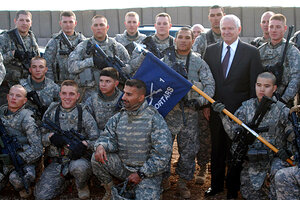 Emad Matti/AP
A top US official warned Friday of "significant" new sanctions on Iran, joining others in ratcheting up pressure on Tehran to fulfill an October agreement to curb its nuclear program.
The European Union is preparing a draft of a statement supporting stronger global action to curb Iran's nuclear ambitions. That follows the UN's expression of "grave concern" Thursday for Iran's apparent violations of a UN ban on arms exports.
In a speech to soldiers Friday in Kirkuk, Iraq, US Defense Secretary Robert Gates said Iran would be sanctioned if it didn't honor its recent agreements, according to The New York Times.
"I think you're going to see some significant additional sanctions imposed by the international community, assuming that the Iranians don't change course and agree to do the things that they signed up to do at the beginning of October," Mr. Gates said during a question-and-answer session with American troops in Kirkuk, an oil-rich region north of Baghdad.
---