US drones in Pakistan kill at least 20 in barrage of attacks
(Read article summary)
US drones launched missiles into North Waziristan in Pakistan in a barrage of attacks Thursday and Friday. It was one of the largest such attacks in the controversial program the Obama administration has continued and intensified.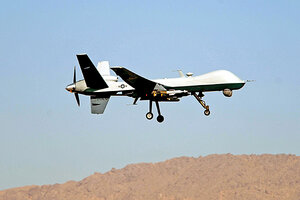 Newscom/File
A fleet of US predator drones fired a barrage of missiles inside Pakistan's main Al Qaeda and Taliban stronghold on Thursday and Friday, killing at least 20 people in total. The third strike, on Friday, killed at least three militants. A top Al Qaeda operative and seven foreign militants were said to be among Thursday's dead.
The missile barrage that began Thursday constitutes one of the single largest such strikes since the Obama administration opted to continue – and intensify – a controversial program initiated by the Bush administration. And it comes amid sharply rising tensions between Washington and Islamabad over the use of the drones.
The Associated Press said Friday's drone attack shot three missiles at a home and killed at least three militants and injured two.
Thursday's strikes were significant for what they targeted: areas of North Waziristan belonging to Siraj Haqqani and Hafiz Gul Bahadur, Taliban commanders believed responsible for some of the deadliest attacks in Afghanistan. The Pakistani government has refused itself to target the areas under the control of the two men. The strikes may also signify that Washington, growing increasingly impatient with what it says is Pakistan's lack of cooperation, is taking matters into its own hands.
---