Israel opens second banned highway to Palestinians before Mitchell visit
(Read article summary)
Israel high court overturned a ban on Palestinian use of a highway that cuts through the West Bank ahead of a visit by US Middle East Envoy George Mitchell next week.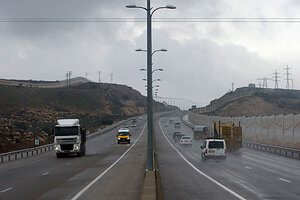 Ammar Awad/Reuters
Israel's high court overturned Tuesday a long-standing ban on Palestinian traffic along a stretch of highway that cuts through the West Bank. Though cheered by activists, the move drew immediate fear from some Israelis of new terrorist attacks, again emphasizing the depth of the divide the US is expected to try to bridge in peace talks next week.

The 20 kilometer (about 12.5 miles) section of Route 443, which connects the Israeli city of Modiin with Tel Aviv and Jerusalem, was closed to Palestinians in 2002 after a series of attacks on Israeli motorists. The Association for Civil Rights in Israel, which represented the six Palestinian villages that appealed to the court to lift the ban two years ago, called the ruling "a huge victory," reports Al Jazeera.


[The ban] turned what had been a 15 minute drive for tens of thousands of Palestinians into an hour of travel on dirt roads.
The court ruled the military did not have the authority to permanently limit Palestinian travel along the West Bank section of the road as such a move "in effect transforms the road into a route designed for 'internal' Israeli traffic alone".
It gave the military five months to implement its ruling.
---