Iran nuclear physicist killed: Iran sees US, Israel behind the attack
(Read article summary)
Iran state media reported Tuesday that a nuclear physicist and 'staunch supporter' of the Islamic Revolution was assassinated in Tehran near his home.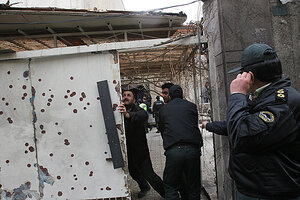 AP
A nuclear physicist was assassinated in Tehran on Tuesday by a remotely controlled bomb, Iranian news outlets reported. The reports made thinly veiled suggestions the attack could have been carried out by the United Sates or Israel. The physicist's murder comes amid increasing speculation that Iran has been making nuclear weapons and ahead of a meeting this week by major powers on whether to impose further sanctions against the Islamic Republic.
 
Iran's state-run Press TV described Massoud Ali-Mohammadi, a lecturer at Tehran University, as a "staunch supporter" of the 1979 Islamic revolution –and thus the current regime. It said a booby-trapped motorbike exploded near his home and that police were investigating the "terrorist case."
 

Press TV correspondent Amir Mehdi Kazemi, reporting from the scene of the assassination, quoted security officials as saying that the equipment and system of the bomb used in the attack had been related to a number of foreign intelligence agencies, particularly Israel's Mossad.
---