Will Yemen rebels accept a fresh cease-fire plan?
(Read article summary)
Yemen's government – under pressure from the US to focus on Al Qaeda-linked groups operating within its borders – is stepping up efforts to solve a separate pressing issue: five years' worth of fighting with Shiite rebels.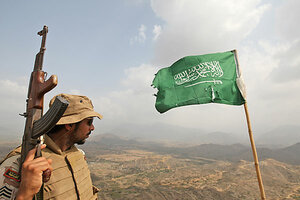 Hassan Ammar / AP
The Yemeni government has presented a cease-fire plan to Houthi rebels in a bid to end five years of fighting with the fiercely anti-Western Shiite group. An end to that conflict, which has also drawn in the Saudi Arabian military, would allow Yemen to turn its focus toward the Al Qaeda affiliates operating within its borders.
Reuters reports that a Yemeni presidential adviser announced the government's offer to the Houthis on Saturday.
Al Jazeera reports that the problem now is ironing out the details of the cease-fire. Last week the Houthis accepted the terms of a cease-fire offer that the Yemeni government made in September. But the government refused to recognize the offer and said it would only cease military operations against the Houthis "under a certain framework," including an end to Houthi operations against Saudi Arabia.
What's in the peace plan?
Mr. Iryani described the government's plan Saturday.
But despite each side's verbal commitment to a cease-fire, the fighting between the Houthis and government forces has flared up in recent days.
---