Pakistan leaders to request more military, economic aid in US talks
(Read article summary)
Pakistan leaders, including the Army chief and foreign minister, are requesting additional military and economic aid during strategic dialogue with US officials.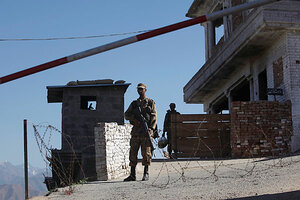 Akhtar Soomro/Reuters
• A daily summary of global reports on security issues.
Pakistani leaders are meeting with US Defense and State Department officials in Washington this week for a "strategic dialogue" that will help shape the two countries' relationship in coming years.
The United States considers Pakistan an important ally in the war in Afghanistan, though it has accused Pakistan of not doing enough to combat the Afghan Taliban, and discussion of the two nations' defense partnership is a large component of the talks. But Pakistan is also asking that the US look beyond the military aspect to build a deeper relationship with economic and development aid. It may also be prepared to offer more assistance cracking down on the Afghan Taliban in return, according to some reports.
---