Kashmir curfew lifted by India, but separatists call for strike
(Read article summary)
Indian authorities have lifted the Kashmir curfew imposed in the past few days after weeks of protests by separatists led to at least 15 deaths in clashes between protesters and government forces.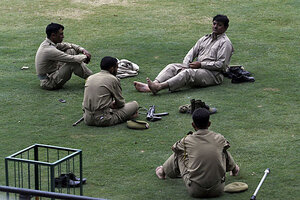 Fayaz Kabli/Reuters
• A daily summary of global reports on security issues.
Authorities Sunday lifted the Kashmir curfew imposed after weeks of protests by separatists and bouts of violence that led to Indian troops being deployed to control the crowds.
But many areas remained quiet as a coalition of separatist parties called for a strike to protest Indian rule of the state, known officially as Jammu and Kashmir. Tensions have soared as at least 15 people have died in protests and clashes with police over the last month; residents blame the deaths on police and paramilitary forces.
Protests against Indian rule of the Muslim-majority region in the late 1980s led to a conflict that killed tens of thousands of people. Separatists have called for independence from India or a merger with Pakistan.
The Times of India reports that though the curfew was lifted, bans on public assemblies remained in place in some districts and cities, including parts of the major city of Srinigar. Curfews have been imposed on and off during the past month. A curfew was imposed on Srinigar on Tuesday after at least three people were killed in one day of protests, as The Christian Science Monitor reported. It was lifted late Friday to allow a Muslim celebration, then reimposed Saturday after thousands thronged to the streets again in protest, as Agence France-Presse reported.

The Associated Press reports that in shops and businesses were closed in many parts of Kashmir in response to the call for a strike by the All Parties Hurriyat Conference, a separatist coalition.
---