Iraq violence flares as US begins to draw down troop levels
(Read article summary)
The killing of five policemen in Baghdad on Tuesday came as President Barack Obama vowed again to fulfill an agreement with the Iraqi government to lower US troop levels from 80,000 to 50,000 by the end of August.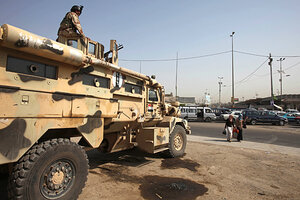 Karim Kadim/AP
• A daily summary of global reports on security issues.
Assailants shot dead five Iraqi policemen at a road checkpoint in Baghdad on Tuesday, getting August off to a grim start just days after the local government said July was Iraq's deadliest month in two years.
The attacks come amid a drawdown of US forces and political instability in Iraq. Iraqi politicians are still fighting over who should become prime minister because of unclear results in the March elections and there is speculation that insurgents are taking advantage of the discord.
News reports did not say how many attackers were involved in Tuesday's shooting, which took place early in the morning. They fired guns with silencers and left behind a black flag to represent the Islamic State of Iraq, says CNN, the call sign of an umbrella group with alleged links to Al Qaeda. The same flag was planted last Thursday, after suspected Al Qaeda militants attacked another checkpoint and killed 16 Iraqi officers.
STORY: Obama touts withdrawal in Iraq. Does he sounds like Bush?
Also Tuesday, in several separate incidents around the Iraqi capital, roadside bombs wounded a total of six people and mortar rounds damaged a building, CNN reports.
---