Pakistan floods continue on rain forecasts, further delaying aid distribution
(Read article summary)
Authorities battling Pakistan floods have forecast heavy monsoon rains and exceptionally high levels for the Indus River at two dams in Sindh Province.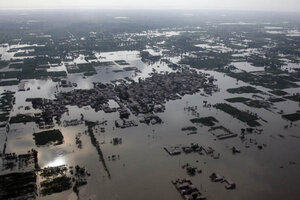 Evan Schneider/AFP/UN Photo/Newscom
• A daily summary of global reports on security issues.
With forecasts for more rain, Pakistan warned Monday of increased flooding this week, which also threatens to disrupt aid distribution and increase the devastation that has already affected 20 million people.
The slow nature of the government's response to the Pakistani floods, and the presence of militant networks providing aid, has caused worry that the flooding will further destabilize a nation already fighting terrorist groups for control of its own territory.
The Pakistani daily Dawn reports that heavy rain was falling Monday in Sukkur, in the southern province of Sindh. Bloomberg reports that Pakistani authorities have forecast heavy monsoon rains and exceptionally high levels of the Indus River at two dams in the Sindh Province over the next two days. Heavy rain is also expected in the northern province of Punjab, where the Indus had fallen to slightly lower levels.
Thousands of people are being evacuated in Sindh as the river swells above its banks, reports Al Jazeera.
The flooding is already thought to have killed 1,600 people and injured more than 2,000. It has destroyed not only homes but crops, and could cut Pakistan's economic growth in half, according to the country's finance secretary.
---
Follow Stories Like This
Get the Monitor stories you care about delivered to your inbox.