France warns travelers of increased terrorist threat in Britain
(Read article summary)
France warned its citizens traveling to Britain to be especially vigilant, saying a terrorist attack on public transport or tourist sites is 'highly likely.'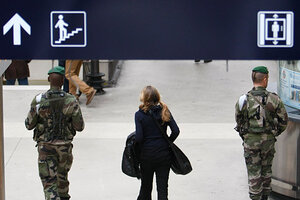 Remy de la Mauviniere/AP
• A daily summary of global reports on security issues.
The same day that France made 12 arrests connected to terror plots, its Foreign Ministry urged French citizens visiting the United Kingdom to be cautious, warning them that a terrorist attack on public transport or in the tourist areas is likely. The warning came in a statement on the ministry website late Tuesday night, Radio France International reported.
The French alert for the UK comes after the US issued a general travel alert for Europe on Sunday, warning of a "high threat" in France and Germany.
France has been on its second-highest level of terror alert for more than a week, The Guardian reported.
Yesterday, France arrested nine men under suspicion of trafficking arms and explosives and, in a separate raid, three men suspected of offering housing and false identification papers to foreigners trying to enter France.
---