Afghanistan's Hamid Karzai says he's talking to the Taliban
(Read article summary)
Afghanistan President Hamid Karzai confirmed that he's talking to the Taliban, seeking a political settlement with the group that harbored Al Qaeda prior to and just after 9/11.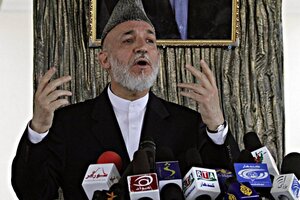 Allauddin Khan/AP
• A daily summary of global reports on security issues.
Afghanistan President Hamid Karzai said that his government has been in talks with the Taliban, the highest-level confirmation yet that his government is exploring a political settlement with the islamist militant group.
The comments came in an interview with Larry King set to be broadcast in full on CNN tonight. Excerpts were released on Sunday.
Karzai told King that his government had long had unofficial contact with the Taliban, and that he hoped official talks could begin now that a peace council was created for that purpose.
We have been talking to the Taliban as countryman to countryman, talk in that manner. Not as a regular official contact with the Taliban with a fixed address but rather unofficial personal contacts have been going on for quite some time. ...

Now that the peace council has come into existence, these talks will go on, and will go on officially and more rigorously, I hope.
Karzai drew a sharp line between Taliban that should be rehabilitated into Afghanistan society, and members of Al Qaeda or other groups who "cannot be accepted."
---