China delegation visits North Korea, expresses support for Kim Jong Il
(Read article summary)
The US was hoping that China, the only country with diplomatic influence over North Korea, would rebuke the country for shelling South Korea last month. But China appears intent on maintaining support for Kim Jong Il.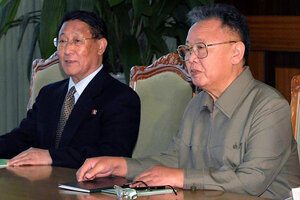 Korean Central News Agency via Korea News Service/AP Photo
North Korean leader Kim Jong Il met with high-level Chinese officials on Thursday in North Korea's capital, Pyongyang, where China reaffirmed its relationship with its fellow communist state and maintained a neutral stance on North Korea's attack on South Korean forces last month.

North Korea, which hasn't explained why it shelled the South Korean island of Yeonpyeong, heightened tensions on the Korean Peninsula further by saying that the island is surrounded by North Korea-controlled waters. The internationally determined border is several miles to the north of the island, reports The Wall Street Journal.
China's stance has irked many American leaders and their allies who hoped that China, North Korea's only ally, would apply pressure on Mr. Kim to stop his hawkish policies, reports BeijingNews.net.
---