Sweden suicide bomber investigated by British police
(Read article summary)
The suspected Sweden sucide bomber's home in Luton, England, is being searched in connection with Saturday's attacks in Stockholm.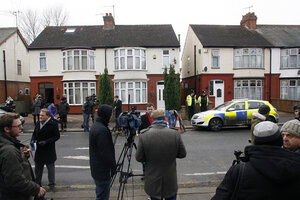 Akira Suemori/AP Photo
British police have joined the investigation into the alleged Sweden suicide bomber, with evidence emerging he has strong ties to the British city of Luton, Bedfordshire.
The Guardian reports that British police on Monday continued to search the Luton home of Taimour Abdulwahab al-Abdaly, an Iraqi-born Swede, suspected in the attack Saturday in Stockholm, which took his life.
Although authorities have not yet named Mr. Abdaly as either the attacker or the victim in Saturday's bombings in Stockholm, Swedish and British newspapers have widely reported that he is believed to be the man responsible for the attacks, which injured two people. The Guardian writes that Abdaly, who attended the University of Bedfordshire in 2004, was married with children and still has family in Luton, though his neighbors say they haven't seen him for two and a half weeks.
The British newspaper cites the Swedish press quoting Abdaly's family. "He did not say where he was going," his father told Swedish newspaper Expressen. "The whole family is in shock, and wants to find out what happened."
---