Iran nuclear program delayed, says Israeli minister
(Read article summary)
Contrasting with recent Israeli claims that the Iran nuclear threat was imminent, a top minister says that setbacks have put Iran three years away from acquiring a nuclear weapon.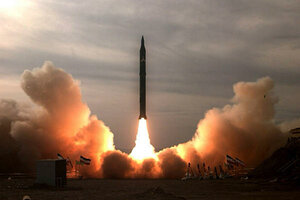 Fars News/Reuters/File
• A daily summary of global reports on security issues.
An Israeli minister estimates that Iran is three years away from developing a nuclear weapon, a more long-term estimate than recent Israeli claims that an Iranian bomb was imminent.
Agence France-Presse reports that Moshe Yaalon, Israel's strategic affairs minister, said on public radio Wednesday that "The Iranian nuclear programme has a number of technological challenges and difficulties," putting it up to three years away from acquiring a nuclear weapon.
"These difficulties have postponed the timetable," said Yaalon. "So we can't talk about a point of no return. Iran does not have the ability to create nuclear weapons by itself at the moment." ...

"It is likely to happen in the next three years, if it is successful. And I hope it will not be successful at all and that the efforts of the West will prevent Iran from developing a nuclear capability," Yaalon said.
Although Mr. Yaalon did not name the "difficulties" that Iran has encountered, he was most likely referring to the Stuxnet worm, a computer virus that causes centrifuges used for uranium enrichment to self-destruct. The Stuxnet worm appears to have hit Iran's Natanz nuclear plant in 2009, hampering Iran's ability to create the enriched uranium needed for nuclear weapons. Although no one has claimed responsibility for the creation of Stuxnet, there are some indications within its code that it may have been created in Israel.
---