As Chinese President Hu traveled to Washington, Taiwan tested missiles
(Read article summary)
The test, which revealed problems with several missiles, is considered a warning to China and a signal to the US that Taiwan still needs military assistance.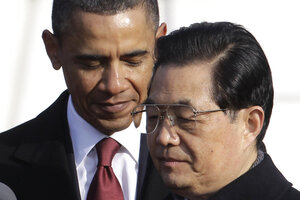 Charles Dharapak/AP Photo
Taiwanese President Ma Ying-jeou says he is not satisfied with the results of a live fire missile test that took place Tuesday. The timing of the drills, which coincided with Chinese President Hu Jintao's visit to Washington, is seen as a message to the United States that the island still needs help defending itself against China.
In what was the first missile test held before the press in more than a decade, six of the 19 air-to-air or surface-to-air missiles either failed to launch or missed their target. According to the Associated Press, one missile, an RIM-7M Sparrow, "cascaded harmlessly into the South China Sea less than 30 seconds after launch."
Analysts have raised questions about the timing and publicity of the missile tests. The New York Times reports that those familiar with the situation in Taiwan considered it coincidental that the test occurred immediately before President Hu and President Obama's meeting in Washington. Government officials told the Times that the test was planned before Hu's trip was announced.
---