Torture debate overshadows US unity after bin Laden's killing
(Read article summary)
Half of Americans credit Bush for Osama bin Laden's killing, reigniting a debate over tactics including secret prisons and 'enhanced interrogation' techniques.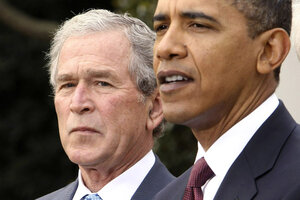 Larry Downing/Reuters/File
• A daily summary of global reports on security issues.
President Obama is enjoying a significant boost in his approval rating in the wake of Osama bin Laden's death, but half of Americans credit the Bush administration for making his capture possible. The debate gets to the heart of how a democratic nation should fight an amorphous enemy that doesn't abide by the traditional rules of war.
A Pew Research Center poll conducted May 2 shows Obama's approval rating jumping to 56 percent Monday from 47 percent last month – similar to the boost former President George W. Bush received after the capture of Saddam Hussein. Seventy-six percent of respondents said Obama was responsible for a "great deal" or "some" credit for killing Mr. bin Laden.
But while there is widespread acknowledgment that the Obama administration executed the raid on bin Laden's compound admirably, some 51 percent of Americans surveyed by Pew said the Bush administration was responsible for bin Laden's elimination – even if it took 10 years after 9/11.
Conservative politicians and pundits say the capture wouldn't have happened without tactics authorized by Bush and often criticized by liberal politicians – specifically controversial secret prisons overseas and "enhanced interrogation" techniques, such as waterboarding, which many consider to be torture.
---