Kandahar assaults underscore vulnerabilities in Afghan war effort
(Read article summary)
Taliban attacks continued for a second day in Kandahar, despite a yearlong effort by NATO and Afghan forces to drive the Taliban out of the southern province.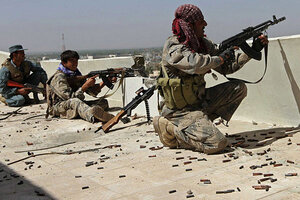 Ahmad Nadeem/Reuters
A daily summary of global reports on security issues.
The Taliban continued their assault on government offices in Kandahar for the second day Sunday, after militants launched attacks in their former stronghold Saturday as part of the start of the group's spring offensive.
The attacks across the city come after a yearlong campaign by NATO and Afghan forces to drive the Taliban out of Kandahar Province and southern Afghanistan. They show that despite those efforts, the city is still vulnerable to a widespread Taliban assault.
Agence-France Presse reports that four died in the attacks, and nearly were 50 wounded. They began Saturday when militants used rocket-propelled grenades to attack the governor's office from nearby buildings. They also attacked police stations and local offices of Afghanistan's intelligence service, and used suicide bombers. AFP reports that though fighting died down overnight, militants Sunday remained in a building near an intelligence service office, and fired rockets and guns.
"It is a complicated building, that is why it has taken a while to clear up but soon we will clear the building of the enemy," said Kandahar border police commander General Abdul Razeq, according to AFP.
---