Syrian crackdown in Hama is a 'litmus test'
(Read article summary)
With Syrian tanks at the edges of the city of Hama, an icon of rebellion, how the regime chooses to proceed could signal its plans for the country as a whole.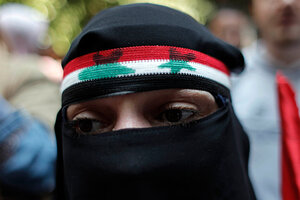 Nasser Nasser/AP
• A daily summary of global reports on security issues.
Almost 30 years after a brutal crackdown that left at least 10,000 Syrians dead, Syrian security forces once again entered the city of Hama yesterday to put down an uprising against the regime. The July 5 raids, which ended with at least 14 dead, came as members of the opposition received invitations from the government to talk in Damascus.
The simultaneous diplomatic overture and crackdown is a pattern that has occurred repeatedly since the uprising began in March, prompting the opposition to refuse some of the regime's offers of reform and dialogue because they say talks can't happen while protesters are being detained and killed.
How the regime proceeds in Hama could be a telling sign of what its plan is for the country as a whole, Reuters reports.
"There's a political track and a security track and they don't seem to be in synch ... Hama is a litmus test," a diplomat in Damascus said. "If the tanks stay on the outskirts and move away eventually, it would seem that the political track has won the day.

"If they continue to stay where they are, making sorties into the center of town, then maybe they are drifting back to the security solution ... So what happens there in the next few days will really be key."
Hama has been an icon of opposition to the regime since President Bashar al-Assad's father ordered a crackdown in 1982 on an Islamist uprising there that ended with a massacre of residents and parts of the city razed.
---