Libyan rebels gain momentum in west
(Read article summary)
Libya's rebel fighters are closing in on what they believe is a major weapons supply route for Qaddafi forces.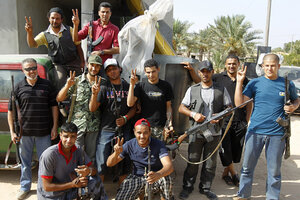 Thaier al-Sudani/Reuters
• A daily summary of global reports on security issues.
Libya's rebels in the west are gaining confidence as victories in the Nafusa Mountains bring them closer to major supply routes for Libyan government forces – and closer to Tripoli. On Wednesday they captured the mountain town of Qawalish, ending a stalemate with Libyan leader Muammar Qaddafi's forces and giving momentum to their incremental march toward the capital.
Seizing Qawalish brings the rebels within 35 miles of the town of Gharyan, which lies along a highway that runs south from Tripoli and has become a major supply line for Mr. Qaddafi since NATO began blockading the Tripoli port, The New York Times reports.
Taking Gharyan is one of the main goals of the rebels in the west because an estimated 900 government forces are stationed there with rockets and artillery. However, an approach will be dangerous for the rebels because well-armed government forces remain in control of the surrounding towns and villages. Qawalish was as far as the rebels were willing to go Wednesday, and many of their fighters pulled back to the west of the town when Qaddafi's forces began shelling it.
---