US: Syria's leadership showing fissures
(Read article summary)
The US has announced new sanctions on Syria in hopes of dividing the business elite from the government. But Turkey has surprised its American allies by patiently pursuing diplomacy instead.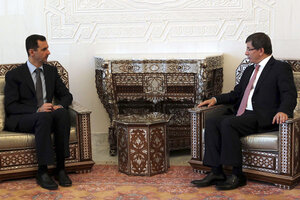 Hakan Goktepe/AP
• A daily summary of global reports on security issues.
The US took another decisive step against Syrian President Bashar al-Assad Wednesday night with new sanctions and prepared to call for his departure from power as soon as today. But US ally Turkey, which is seen as the main source of international leverage on neighboring Syria, said that its efforts to talk with Damascus since its foreign minister paid a visit on Tuesday are having positive results.
The US imposed sanctions Wednesday night on Syria's largest commercial bank and on its largest telecommunications company in hopes of creating a rift between the government and the country's business elite – a sector that has so far been a strong ally of President Assad in the country's five-month uprising, the Wall Street Journal reports. According to the Associated Press, the State Department is also preparing to demand that he leave office.
Meanwhile, the Turkish ambassador to Syria visited Hama and said that the Army had started withdrawing from the city, a focal point of the protests. Prime Minister Recep Tayyip Erdogan said in Ankara on Wednesday that he hoped the Army withdrawal meant that Syria would now move forward with reforms – a surprise to the Obama administration, which thought Turkey was turning up the pressure on Syria, the Wall Street Journal reports.
---