Fresh Syrian protests test Assad's pledge to halt violence
(Read article summary)
Syrian activists organized fresh protests today under the rallying call 'the beginnings of victory' after Assad promised the UN on Wednesday that he would end his regime's brutal crackdown.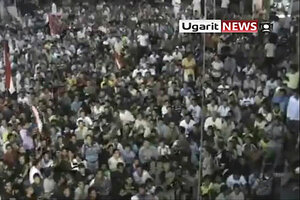 Ugarit via APTN/AP
• A daily summary of global reports on security issues.
Fresh Syrian protests today pose the first major test of Syrian President Bashar al-Assad's assurance to the United Nations on Wednesday that he would halt military and police action. Syrian human rights groups, however, say Mr. Assad has already broken his promise.
Bolstered by increased international action, including US and European calls for Assad to step down, the Syrian protesters organized on Facebook under the rallying cry "the beginnings of victory," the BBC reports.
After months of conflicting reports about the fighting in Syria, which the Assad regime blamed on foreign terrorists and saboteurs, tomorrow the UN is scheduled to send in a humanitarian team to investigate the areas most affected by the killing. Assad promised "independent and unhindered access to all areas affected by violence" during a phone conversation with UN Secretary-General Ban Ki-Moon on Wednesday.
It remains to be seen whether continued protests will push Assad to make any dramatic shift in his handling of the conflict, however.
US and European officials said they don't expect Assad to resign, despite their demands, and some said they expected violence to intensify, rather than abate, the Wall Street Journal reports. Protesters in Syria welcomed the diplomatic move "with a mixture of relief that powerful allies were rallying to their side – and fear that it would provoke an even-more violent backlash from the government, which has argued it is fighting Islamist militants backed by a foreign plot."
---