Libya rebels control '95 percent' of Tripoli, but Qaddafi loyalists vow to fight
(Read article summary)
As Libya rebels assumed control of most of Tripoli, Qaddafi's spokesman said 'thousands and thousands' of fighters were on their way to Tripoli to join the fight.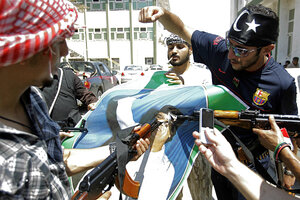 Sergey Ponomarev/AP
• A daily summary of global reports on security issues.
The Libyan rebels say they have gained control of 95 percent of Tripoli, one of the last holdouts of Col. Muammar Qaddafi's regime, capping a stunning week of gains.
Two of Qaddafi's sons are in rebel custody, including the politically powerful Saif al-Islam, who is wanted by the International Criminal Court on war-crimes charges, Al Jazeera reports.
But Qaddafi loyalists are refusing to surrender, potentially prolonging the victory that rebels and their supporters celebrated with a deafening street party in the capital last night. (For an excellent map of the rebel advances and extent of control, click here – thanks to BusinessInsider.com.)
"We will fight," vowed government spokesman Moussa Ibrahim, who said that there were "thousands and thousands" of fighters on their way to help the loyalists. "We have whole cities on our sides. They are coming en masse to protect Tripoli to join the fight."
Indeed, while rebels are exulting in their capture of most of the capital, they still face significant hurdles to taking full control of the country, the Wall Street Journal reports from Tripoli.
---