Libyan documents appear to show close ties between Qaddafi and CIA, MI6 (VIDEO)
(Read article summary)
The Western intelligence agencies used Qaddafi's regime to interrogate suspected militants and aided in tracking down Libyan rebels, including a top rebel military official, according to papers found in a Tripoli office.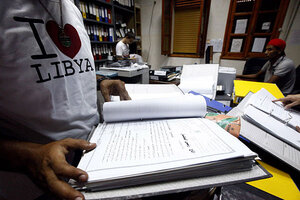 Anis Mili/Reuters
Muammar Qaddafi's regime worked closely with US and British intelligence agencies for several years, including aiding in the rendition and interrogation of CIA detainees, according to new documents uncovered in Libyan government offices in Tripoli.
The documents, discovered by Human Rights Watch and other journalists in offices apparently used by former Qaddafi intelligence chief and Foreign Minister Moussa Koussa, indicate the CIA sent at least eight suspected militants to Libya for interrogation between 2002 and 2007, despite Libya's reputation for using torture, The New York Times reports.
The flurry of communications about renditions are dated after Libya's renouncement of its weapons program. In several of the cases, the documents explicitly talked about having a friendly country arrest a suspect, and then suggested aircraft would be sent to pick the suspect up and deliver him to the Libyans for questioning. One document included a list of 89 questions for the Libyans to ask a suspect.

While some of the documents warned Libyan authorities to respect such detainees' human rights, the C.I.A. nonetheless turned them over for interrogation to a Libyan service with a well-known history of brutality.
---