Turkey's Erdogan heads to Egypt, unnerving an embattled Israel
(Read article summary)
Turkish Prime Minister Erdogan's North Africa tour comes at a critical time for Israel, whose diplomats were forced to flee Cairo this weekend after protesters attacked the Israeli embassy.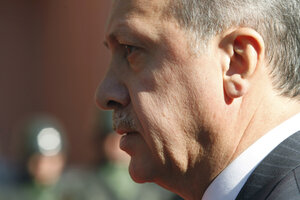 Burhan Ozbilici/AP
• A daily summary of global reports on security issues.
Turkey is emerging as the center of growing regional opposition to Israel at a critical time. Turkey's leadership and increasing influence, wielded on pliable new governments that have sprung up in the wake of Arab uprisings, could deepen Israel's isolation and pose serious security threats to the Jewish state.
Turkish Prime Minister Recep Tayyip Erdogan, who has become an increasingly vocal critic of Israel since the 2009 Gaza war, embarked today on a trip to Egypt, Libya, and Tunisia.
His regional tour comes as Israel's ties with both Turkey and Egypt have reached lows not seen in decades. Turkey, a major trade partner, recently cut ties after a diplomatic row over the 2010 Gaza flotilla, in which eight Turks and one Turkish-American were killed when Israeli commandos raided a boat seeking to break Israel's blockade of the Hamas-run territory.
Meanwhile, both Israel and Egypt's interim military leaders appear shaken by protesters' weekend attack on the Israeli embassy in Cairo that forced the diplomats to flee.
Turkish Foreign Minister Ahmet Davutoğlu said Sunday that Israel was "out of touch with the region and unable to perceive the changes taking place, which makes it impossible for the country to have healthy relations with its neighbors," Turkish newspaper Today's Zaman reports.
Israeli officials are concerned Mr. Erdogan will use his tour as a soapbox from which he criticizes Israel and will try to build an alliance with Egypt against Israel, The Jerusalem Post reports.
Indeed, Turkey has "begun to emerge as the key regional actor opposing Israel" writes Soner Cagaptay, a senior fellow at the Washington Institute for Near East Policy, for CNN. He compares Turkey to Egypt under pan-Arabist Gamal Abdel Nasser, and Egypt to Turkey, whose secular military has been undermined in recent years by Mr. Erdogan's conservative, Islam-rooted Justice and Development Party (AKP).
For starters, Turkey has become like the old Egypt under Nasser – positioning itself as the regional center of opposition to Israel. Meanwhile, Egypt is becoming like the old Turkey. The outcome of the forthcoming Egyptian elections is far from certain. Yet it is very likely that the Muslim Brotherhood will emerge as a power to be reckoned with in the Egyptian polls this fall. Even if the Egyptian military stands for maintaining ties with Israel, the Muslim Brotherhood will push for limiting those ties. Accordingly, Egyptian-Israeli ties will continue to become more cold and tenuous with each passing day.

For the first time, the two major states of the Eastern Mediterranean are aligning against Israel. This is the most important shift in Levantine politics since Camp David or even since 1949 when Turkey recognized Israel. This new balance is a serious threat for Israel, which must now consider an increasingly hostile Turkey and an ever colder and unfriendly Egypt when it evaluates its security environment.
---