Yemen violence erupts after months of stalemate (video)
(Read article summary)
Nearly 50 people have been killed as Yemeni protesters and loyalists forces have clashed in the capital. A key source of tension is the weakened president's failure to transfer power.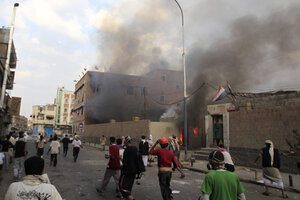 Khaled Abdullah/Reuters
• A daily summary of global reports on security issues.
Yemen's capital is seething with the worst outbreak of violence in months, as protesters fed up with President Ali Abdullah Saleh's regime push further into territory controlled by government loyalists.
The fighting, in which nearly 50 people have been killed so far, underscores concerns that the impoverished Arab state could once again approach the brink of civil war if an orderly transition is not secured.
Protesters had been hopeful that Mr. Saleh would step down after a June 3 attack on his compound forced him to flee to Saudi Arabia, where he has remained to convalesce. But Saleh last week asked his vice president to once again open negotiations on a Gulf-mediated deal that would see him transfer power in exchange of immunity – a deal that he has thrice committed to signing only to renege at the 11th hour.
"I fear the situation will get out of hand. There is no new initiative to cool things off and the other political players doubt that Saleh will abide by any terms that are set," Saadaldeen Talib, a former Yemeni opposition parliamentarian, told Reuters."Complete disintegration and chaos might come very soon."
Protesters saw Saleh's latest move as yet another stall tactic, and they expressed their frustration with stepped-up fighting in Sanaa, the capital, where they have long camped out in an area they've dubbed "Change Square."
---