Will Yemen's fierce fighting push protesters to take up arms?
(Read article summary)
After three days of rocket attacks, shelling, and shooting that have killed 60, some worry Yemen's protesters – who have so far used sticks and Molotov cocktails – may take up conventional arms.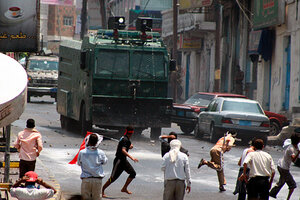 Anees Mahyoub/AP
• A daily summary of global reports on security issues.
A third day of fierce fighting in Yemen's capital has pushed the death toll above 60, with protesters reportedly being killed and injured by rockets, heavy shelling, and machine-gun fire. The fighting, which has been largely contained to battles between government loyalists and defected soldiers, has raised concerns that Yemen's largely peaceful protesters could take up arms in self-defense and push the country into full-blown civil war.
"What has been remarkable is the peaceful nature of the demonstrators. But I am afraid that you will get a situation where people will start fighting back," Salman Shaikh, director of the Brookings Doha Center, told The Washington Post.
Another group with the potential to wreak havoc is the large number of defected soldiers who have so far stayed out of the fighting. Should they join the soldiers already fighting government forces, the situation could quickly devolve into a Libya-like civil war, according to the Post. "It's not two equal forces fighting it out to the end, but it could be," said Robert Burrowes, emeritus professor at the University of Washington. "I think it could very easily develop into something like Libya."
---
Follow Stories Like This
Get the Monitor stories you care about delivered to your inbox.