Libya's interim leader predicts Sirte victory by end of week
(Read article summary)
A Sirte victory would end the protracted battle for Qaddafi's hometown and allow a new government to be established. Delay could increase the likelihood of rifts in Libya's future leadership.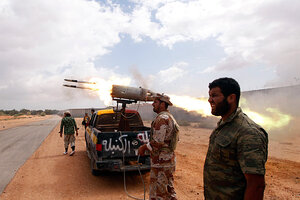 Saad Shalash/Reuters
• A daily summary of global reports on security issues.
Libya's rebels say they have Muammar Qaddafi loyalists in Sirte trapped in the center of the city, bringing the rebels closer to overcoming the biggest remaining hurdle to establishing an interim government. One rebel commander in Sirte said they now control 80 percent of the city.
"I think and I hope, with the help of God, the liberation of [Sirte and Bani Walid, a Qaddafi stronghold in the desert] these two towns will be completed by the end of this week. God willing," provisional Prime Minister Mahmoud Abdul Jalil said Sunday.
The establishment of an interim government has been put on hold until the rebels can claim victory across the country. The delay has raised the likelihood of divisions within the rebel leadership and stymied efforts to get oil production under way again – two things that will play a significant role in whether Libya can preserve stability. The protracted fighting could also "breed longterm hostility" because of heavy civilian casualties, Reuters reports.
---