UN warns of civil war as Syrian Army deaths climb
(Read article summary)
Concerns are mounting that Syria's uprising could descend into civil war as clashes between Syrian Army soldiers and protesters intensify.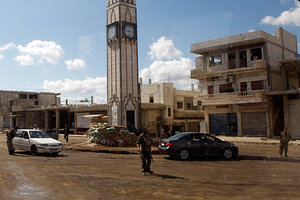 Muzaffar Salman/AP
• A daily summary of global reports on security issues.
The United Nations' top human rights official warned on Friday that the "ruthless repression" of the Syrian regime could develop into a "full-blown civil war." Citing a death toll that they say has now topped 3,000, UN officials called for international action to protect Syrian protesters.
While antigovernment protesters are still dying in high numbers, the numbers of Syrian soldiers who are dying are creeping higher as well, signaling that the uprising is sliding into a two-sided, armed fight.
According to the Syrian Observatory for Human Rights, 25 of the 36 people killed in clashes Friday were Syrian Army soldiers, Agence France-Presse reports. The group said it was surprised "at the silence of the Syrian authorities on the killings of dozens of regular Army soldiers in the past few days."
Many of the clashes have been between Army soldiers and Army deserters who switched sides because they were unwilling to fire on protesters, according to the human rights group. Protesters called for demonstrations today in support of the defected soldiers. The US and Europe have warned repeatedly that without reform, the protest movement, not just its Army deserter supporters, will turn to violence.
---