With Gilad Shalit prisoner swap done, Israelis and Palestinians debate its impact
(Read article summary)
Now that Gilad Shalit is back in Israel and the Palestinian prisoners have been released, Israelis weigh the potential cost of the deal and Palestinians examine how it shifts the Hamas-Fatah split.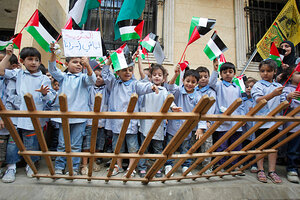 Sharif Karim/Reuters
• A daily summary of global reports on security issues.
An intricate prisoner swap between Israel and Hamas is mostly finished, with Israeli soldier Gilad Shalit back on Israeli soil after five years in captivity by Hamas and most of the 477 Palestinian prisoners scheduled to be released today now in East Jerusalem, the West Bank, or the Gaza Strip.
The dual release has been contested on both sides – by Palestinians angry that Hamas did not secure the freedom of some high-profile prisoners, and by Israelis who are fearful and also angry about the release of people responsible for the deaths of Israelis in terrorist attacks. Regional media have been flooded with opinion pieces picking apart the deal and explaining what it means for the future of the two populations.
Despite their fears, 79 percent of Israelis supported the deal, according to a poll by the Dahaf Institute. And 50 percent of respondents said they were worried about the security situation, The Jerusalem Post reports.
The left-leaning Israeli newspaper Haaretz, whose opinion pages are typically critical of Prime Minister Benjamin Netanyahu and his government, mostly carried op-eds and columns heralding the deal, though acknowledging the security concerns. Bradley Burston, among the most vocal of Netanyahu's critics in the press, wrote of the deal in glowing terms, saying that it showed the kind of convictions that have been lacking in recent years.
---