US warns of 'imminent' terror threat in Kenya as Al Shabab promises 'open war'
(Read article summary)
The US embassy in Nairobi said Saturday that it had received 'credible information of an imminent threat of terrorist attacks directed at prominent Kenyan facilities and areas where foreigners are known to congregate.....'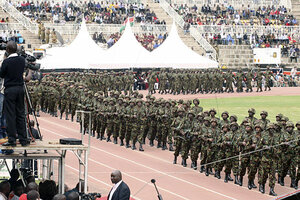 Khalil Senosi/AP
• A daily summary of global reports on security issues.
The US embassy in Kenya has warned of an "imminent threat" of attacks targeting foreigners a week after Kenya sent troops into neighboring Somalia to fight an Islamist militia in the biggest Kenyan military operation since the country's independence.
Though the embassy did not specify who was behind the threat, it brings home Kenyans' fears of retaliation by the Islamist Al Shabab group for Nairobi's military offensive in Somalia.
The American embassy in Nairobi, in a notice posted on its website and reportedly sent to Americans living in and visiting Kenya, said it had received "credible information of an imminent threat of terrorist attacks directed at prominent Kenyan facilities and areas where foreigners are known to congregate, such as malls and night clubs."
The embassy said it has "taken measures to limit official US government travel to Kenya" and urged Americans to consider deferring travel to Kenya. The alert did not indicate who might carry out the attack, but said the notice expires on Dec. 1. In 1998, bombings at the American embassies in Kenya and Tanzania killed 224 people.
---